6-Axis Robots
the industry standard with 2 variations
7-Axis Robots
5 models with advanced capabilities and a variety of options
Robot Controllers
user-friendly with connectivity to factory management systems
Robot Positioners
expand robotic systems up to 32 axes of coordinated motion
Robot Sensors
real time position tracking, seam tracking and groove detection
Arc welding uses concentrated heat generated by an electric arc to weld metals together. The arc occurs from the base material to the electrode, the welding rod or wire, and melts the metal. Then the welder can fuse the molten metal and craft it into a weld to create a strong joint.
Instead of using gas like other welding processes, arc welding uses electricity, with some types requiring either direct currents (DC) or alternating currents (AC). Different types of arc welding include:
Gas Metal Arc Welding (MIG or MAG Welding)
Gas Tungsten Arc Welding (TIG Welding)
Flux-Cored Arc Welding
Shielded Metal Arc Welding (Stick Welding)
Robotic Arc Welding
Robotic Spot Welding
Arc welding is used across various industries, including automotive, shipbuilding, construction and aerospace. Robotic arc welding is best for applications needing high accuracy, repeatability and efficiency.
For information on selecting the best type of welding process to get the highest quality weld, read our guide to choosing the right welding process.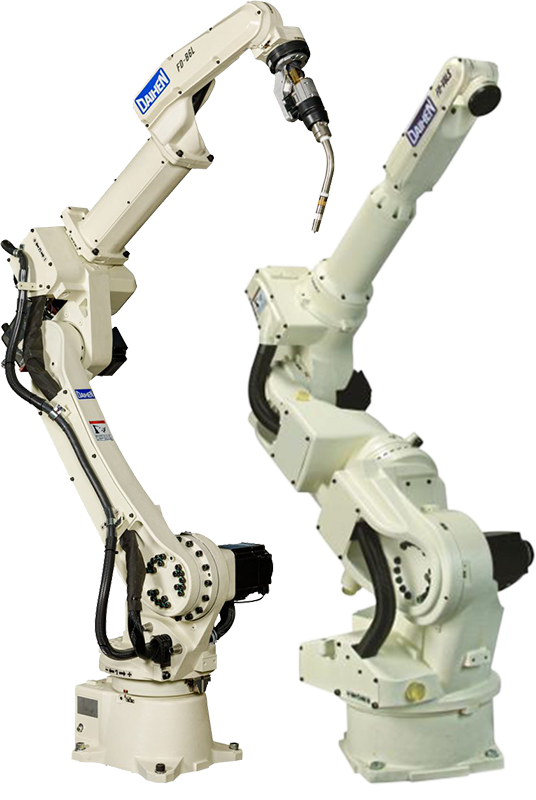 Robotic Arc Welding Use Case: First Metals & Plastics
This video shows how First Metals & Plastics increased productivity and reached new markets with an OTC DAIHEN robotic arc welding solution. Their new solution includes a parts positioner with a headstock and tailstock system to allow them to do full 360-degree welds on parts.
Choosing a Welding Robot
Many manufacturers have questions when integrating robots into production, such as:
Will it reach all my welds? Will it be easy to implement and integrate? How difficult will it be to program and operate? How does it weld? Will it weld better than what I currently have?
At OTC DAIHEN, our welding experts will answer your questions and develop an analysis and recommendation for the best arc welding robot to integrate into your production. We'll demonstrate robot programming and operation, help you get the features you need for maximum production and train your team.
As the world's No. 1 manufacturer of arc welding robots, our robots are known for being faster, easier and better than others on the market. They are highly versatile and come in a wide range of options and capabilities, whether you need a compact design or extended reach. All have seamless digital connections with OTC DAIHEN welding power sources.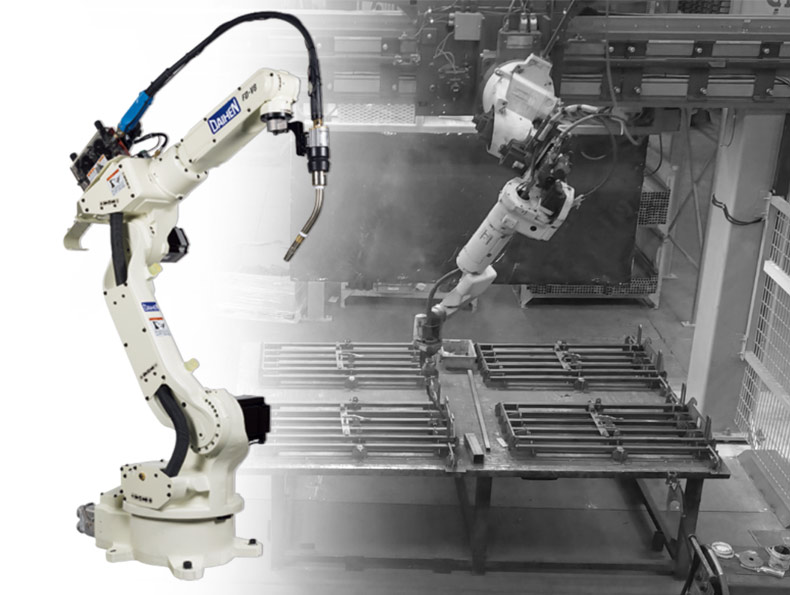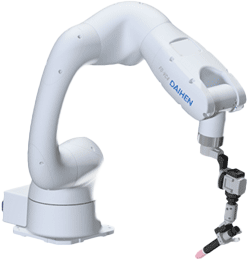 Choosing an Arc Welding Cobot
OTC DAIHEN's new FD-VC4 Co-Bot is the first welding cobot on the market to be equivalent to an industrial robot.
The FD-VC4 Co-Bot is compact, lightweight and safe. It offers high trajectory accuracy, optimal for arc welding, and delivers the same high-quality welds as an industrial robot. The FD-VC4 Co-Bot is available in CO2, MAG, TIG, and other high-frequency welding processes.
Frequently Asked Questions
What are the benefits of automating welding with a robot?
Welding robots provide a solution to the growing shortage of skilled welders and the surge in production needs. Automated systems also enhance the quality, uniformity and effectiveness of the production process. Every produced part is consistent with the previous one, helping meet production demands and mitigating the need for corrections or reworks. Modern welding robots are safe, user-friendly and essential for most production facilities.
Can each welding robot only produce 1 part?
A single robot can store as many as 10,000 programs in its memory, facilitating effortless transitions between parts. Additionally, contrary to widespread belief, it's not necessary to have a massive volume of parts to make automation a viable solution. Even in scenarios where only a few hundred parts are manufactured, the superior quality, uniformity and efficiency offered by robotic systems can justify their cost.
How difficult will it be for my team to learn how to program robots?
Programming robots has never been easier. With the right training and support, your welders are poised to be the programmers of the future. Our training center equips them with the necessary skills and practical experience to facilitate the integration of automation in your facility.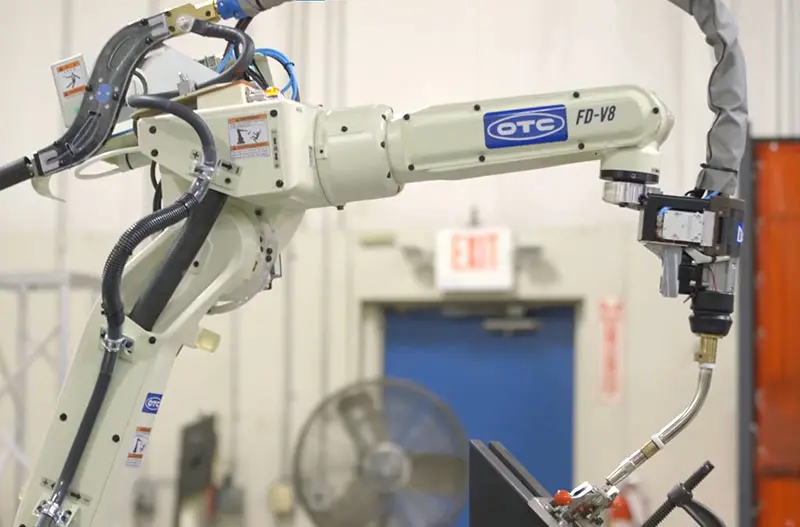 Why Choose an OTC DAIHEN Arc Welding Robot
With an OTC DAIHEN solution, you gain:
The world's No. 1 arc welding robot
A single-source solution with all components manufactured by OTC DAIHEN
High-performance Welbee power sources, torches and wire feeders
Advanced, user-friendly robot controllers and teach pendants
Heavy-duty parts positioners
Free training for life
Expert service and support
Training Welders
FREE TRAINING FOR LIFE! That's right, when you purchase an OTC DAIHEN arc welding solution, you gain free training for life. We offer a wide variety of hands-on classes to help users of all experience levels increase knowledge, hone skills and reinforce safety practices.
All instructors are active service and application engineers with extensive knowledge of our products and industry. Decrease onboarding costs and increase productivity with free training whenever your welders need it.