Training
OTC DAIHEN Robotic Welding Training Program
Leverage the OTC DAIHEN Free-For-Life Training Program to decrease your onboarding costs and increase productivity. All users of OTC DAIHEN FD Series robotic welding solutions can ignite their team with the skill set and training they need, whenever they need it – free for life!
FD Robotic Program1ming 1 and Robotic Programming 2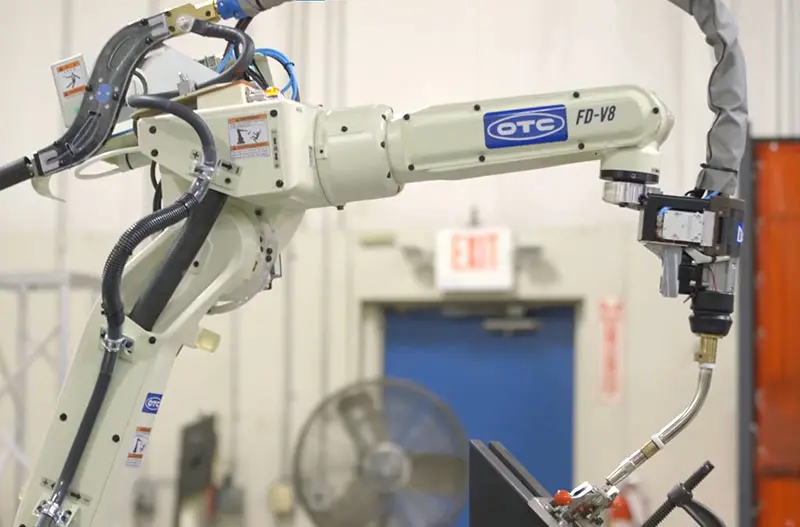 How Does the Free-For-Life Training Program Work?
It's simple and straightforward – if you have purchased an OTC DAIHEN FD Series robotic welding solution, then your team is eligible for free program training for life. Perfect for all skill levels. Classes are offered at our training facility in Tipp City, Ohio. Find the training schedule, course overviews and training manuals on this page. New video tutorials coming soon! If you have questions, feel free to contact your OTC DAIHEN rep.
Download our recommended training manuals for FD21 Robotic Programming 1 and Advanced Robotic Programming.
What kind of training do you offer?
With our Free-For-Life Robotic Training Program, we offer Programming 1 and Advanced Programming 2 for both FD11 and FD21 series robots. These hands-on classes help users of all experience levels increase knowledge, hone skills and reinforce safety practices. All instructors are active service and application engineers with extensive knowledge of our products and industry.
What training is needed for robotic welding?
To be proficient in robotic welding, individuals need to learn how to program welding robots. This includes learning how to adjust wire feeders, input welding commands and modify power sources. Additionally, they need to be trained on determining the movement of the robot's arms, setting the position of the positioner and managing the placement and activation of the welding torch.
I usually work through a distributor. Can I still attend training?
We suggest talking to your distributor to determine how they'd like you to attend training. If you aren't sure who your distributor is, contact us, and we'll help you out.
Is lunch provided? What's the dress code?
Students receive a 1-hour lunch break. Lunch will not be provided. Proper welding attire is required at all times while on the premises, which includes leather closed-toe shoes.
Find more details and all class regulations here.
Can I jump right into advanced training?
We appreciate your enthusiasm! Some courses do have a prerequisite, which will be noted in the course overview.
See a class you are interested in?
Here's how to register:

1
Download and complete this registration form at least 2 weeks in advance of your preferred training date. Note: a separate registration form is required for each student.

3
We'll send you an acknowledgment for each registration form received and will indicate the selected class date.