Solutions
Ultra Low Spatter Welding Technology – Synchro Feed Evolution
Improve productivity and quality with the most advanced robotic wire feeder and heat input system in the industry. This low-spatter technology achieves an ultra-low-spatter weld with no grinding needed.
What is Synchro Feed Evolution?
Synchro Feed Evolution is an ultra low spatter welding technology for robotic MIG, MAG and CO2 welding. The technology developed by OTC DAIHEN, the world's leader in arc welding technology, combines a revolutionary wire retraction system in the torch with a high-speed processor in the power source that together creates minimal spatter and a stable arc.



Reduce Part Setup Time and Fixtures

Replace Manual TIG Welding
Advancements in Synchro Feed Evolution
The technology has advanced from its initial release as Synchro Feed into Synchro Feed Evolution, which consolidated the torch hardware for faster connection and added two new advanced welding modes for additional capabilities.
Connection Time
Connection time is only 2 minutes with a new coaxial power cable that creates a single connection point.
Push Arc Mode
Weld beads are 30-40% wider and flatter to alleviate issues caused by gaps, poor fit and part deviation.
Pulse Mode
A rippled wave weld is created, ideal for aluminum and thin materials, with precision pulsing between ultra-low spatter and spray transfer modes.
Materials that Benefit from Synchro Feed Evolution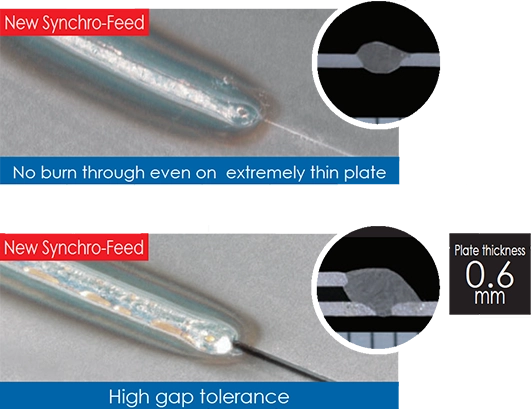 Sheet Metal
High-quality welding and no burn-through on very thin plates, even with 1.2mm wire (helps reduce costs).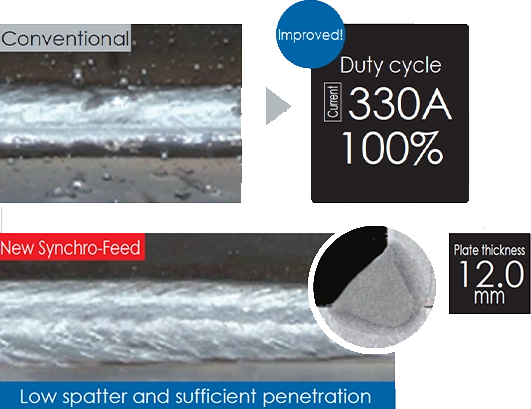 Thick Steel Plate
Low-spatter welding that ensures sufficient penetration even at high current. Torch weaving also achieves a beautiful bead with low spatter.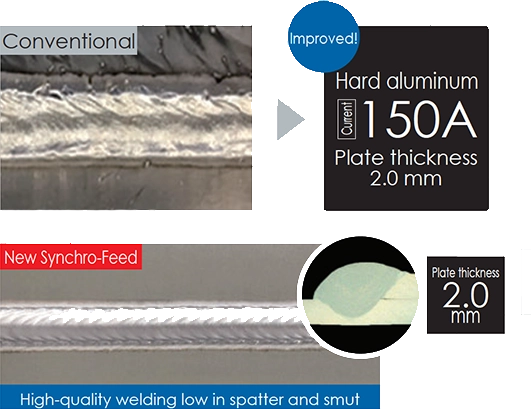 Stainless and Galvanized Steel Plate
High-quality, smooth welding with low spatter, even on stainless and galvanized steel plates. Adaptable to various manufacturing processes.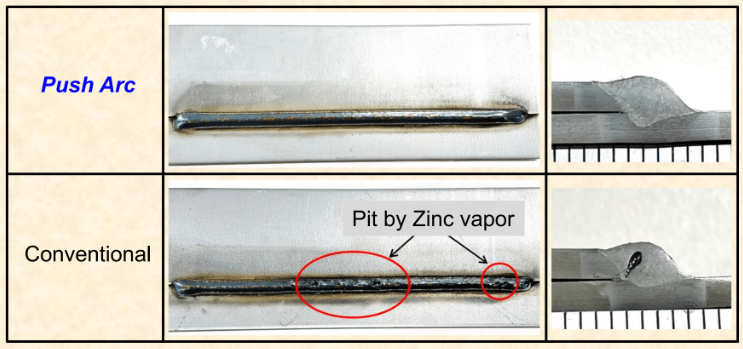 The Key Components of Synchro Feed Evolution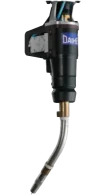 Pull Feeding Unit (Model AFPS-2503 for steel with RT3500H Torch shown)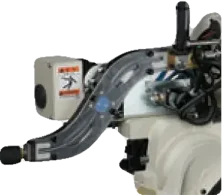 Wire Buffer (Model L-11610 for steel shown)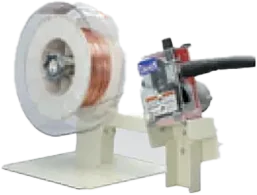 Push Feeder (Model AFS-2301 for steel with Wire Reel Stand shown)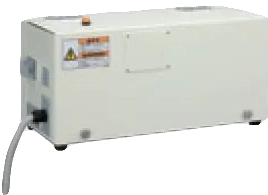 Wire Feed Control Device AFCA-S1W04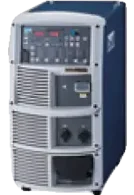 Welding Power Supply WB-P500L
Range of Welding Applications
Range of applications for the Synchro-Feed welding system
Item
Specification
Material
Mild Steel
Galvanized Steel Plate
Stainless Steel (Ferrite, Austenite)
Aluminum
Shiedling Gas
CO2/MAG
CO2/MAG
MIG (98%Ar+2%O2)
MIG (100%Ar)
Applicable Wire Diameter
ø0.9
ø1.0
ø1.2
ø1.2
ø1.2
ø1.2
Wire Stock Method
Wire reel/pack wire
Welding Current
CO2: 50–200A
CO2: 50–250A
CO2: 50–300A
CO2: 50–300A
MIG (98%Ar+2%O2): 50–300A
MIG (100%Ar): 40–150A
Welding Current
MAG: 50–180A
MAG: 50–250A
MAG: 50–330A
Rated Duty Cycle*1
100%*2, *4
100%*3, *4
100%*2, *4
100%*2, *4
100%*2, *4
Applicable Tips
Welding Current: 50–200A: FA tip, 200–400A: E tip
Tip for Aluminum
Max. Cable Length in Conduit
5m
*1 Ambient temperature 45°C (113°F)
*2 When used at 100% rated duty cycle, cooling air supplied at 0.30MPa is required.
*3 When CO2 welding at 300A or higher, the RT5000H torch and cooling air supplied at 0.35MPa are required. When MAG welding at 250A or higher, the RT5000H torch and cooling air supplied at 0.45MPa are required.
*4 When no cooling air is supplied, the rated duty cycle is limited to 30%.
Making the Switch from TIG to Robotic MIG
While manual TIG welding can create that precise and aesthetically pleasing weld needed on critical welding tasks, it is time-consuming, difficult to learn and can be a challenge to find skilled labor. Synchro Feed Evolution is proven to create the same welding bead as TIG, allowing for manufacturers to switch from a manual TIG process to a much-faster robotic MIG process.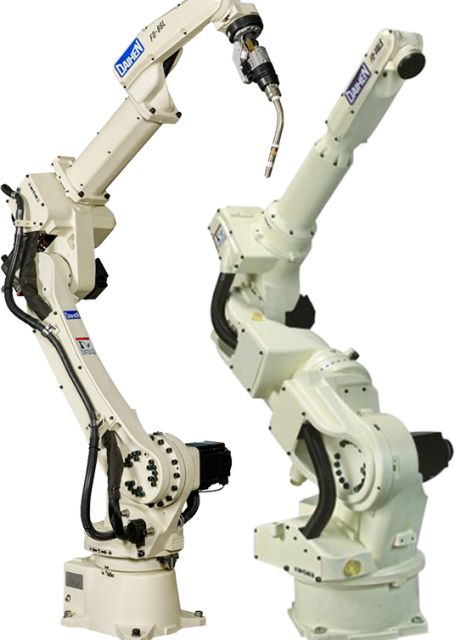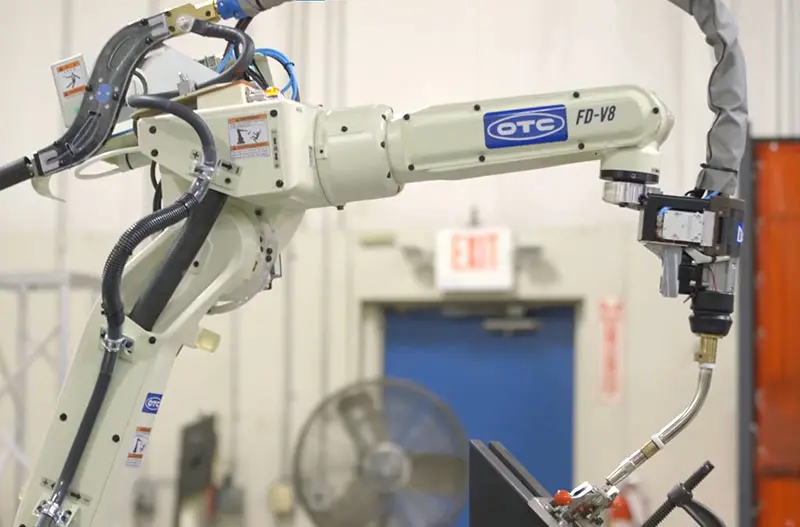 Robotic Welder Training
While there is always a learning curve with new technology, Synchro Feed Evolution and all of OTC DAIHEN's robotic welding solutions are user-friendly, with on-screen displays of functions, errors and data tracking to help all levels of welders achieve optimal results. OTC DAIHEN also has a Free For Life Training program to ensure your team has the training they need, when they need it.
Why Choose an OTC DAIHEN Arc Welding Robot
The world's No. 1 arc welding robot
A single-source solution with all components manufactured by OTC DAIHEN
Free training for life
Expert service and support